The Empire Builder to Glacier National Park: A Scenic Train Journey Awaits
By Amtrak Vacations
Thursday, March 21, 2019
Read time: 4 minutes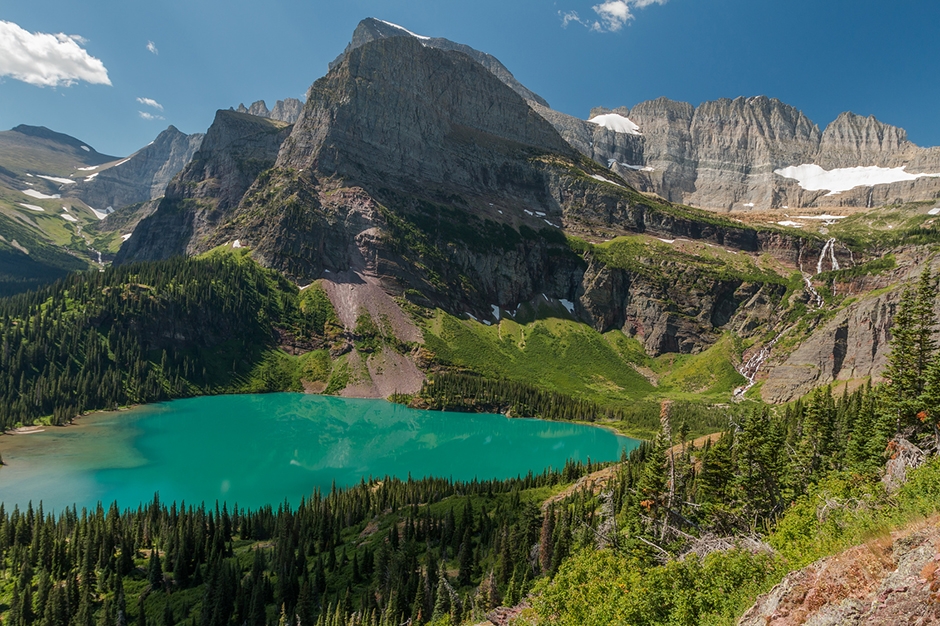 The mountains are calling! A visit to Glacier National Park in Montana really is a bucket list experience and there's no better way to get there than by scenic train. The snow-capped peaks, plunging waterfalls, dense forests, and clear, azure-colored lakes have the ability to stop even the most discerning traveller in their tracks. The special journey there onboard Amtrak's Empire Builder will have you taking in incredible views of untouched wilderness as you traverse major portions of the Lewis and Clark trail and follow in the footsteps of early American pioneers. Once in the park, spend some time getting up close and personal with the Continental Divide. Tour the park's stunning cedar and hemlock forests. Discover the history of Two Medicine Valley. Ride in one of the park's famous Red Buses along the Going to the Sun Road, and take in some of the best scenery in all of Montana. You'll quickly see why Glacier National Park is known as the "Crown of the Continent."
The Park
Covering an astonishing 1,012,837 acres, Glacier National Park is home to two different mountain ranges, more than 130 lakes, 1,000 species of plants, 68 different species of animals, 700 miles of hiking trails, and 16,000 square miles of protected land. In 1910, Glacier National Park was protected during the budding of the American conservationist movement and ranks up there with the Grand Canyon, Yosemite, and Yellowstone as one of the country's most awe-inspiring natural wonders. Here's what naturalist John Muir had to say about Glacier National Park when trying to explain how vital it was: "Give a month at least to this precious reserve." Of course, he was right. A visit merits at least four days. This remarkable place is not one that you rush through to experience.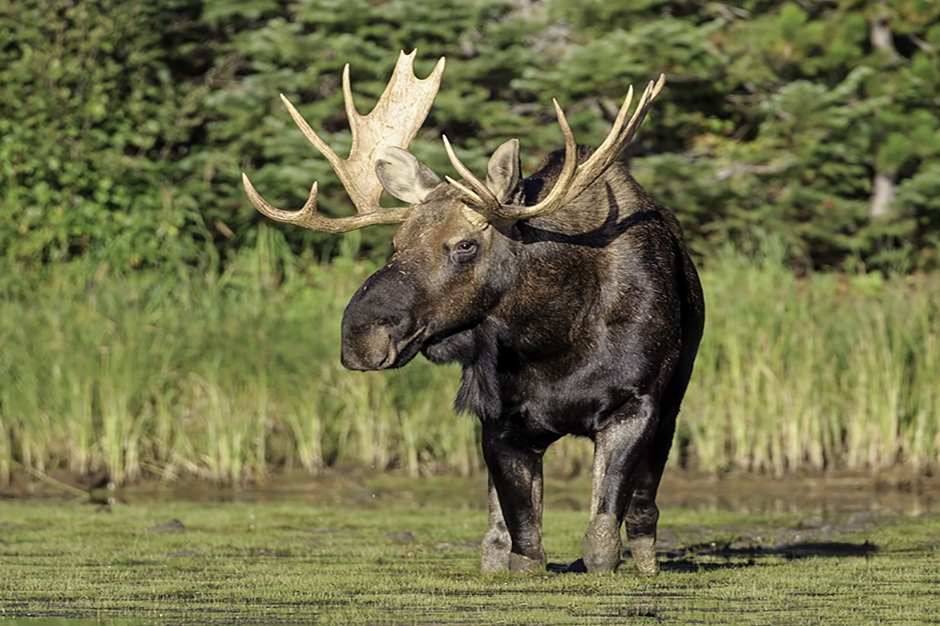 Glacier National Park Lodge sits adjacent to the train station, steps away from the park entrance, and is the perfect base from which to explore the area. When you're in the park, take the short walk to East Glacier Park Village for a piece of huckleberry pie from a local cafe. And no trip to Montana is complete without pie! Stop by the visitor centers located near the park entrances at Apgar, St. Mary, and Logan Pass. Expert rangers are on hand to let you know about current conditions, road and trail closures, and ranger-led activities. Each visitor center features varied exhibits and it's a great place to grab a park map, have a snack and get your bearings. Many visitors are thrilled to discover that wildlife roam the park in abundance - on any given outing you may spot moose, deer, marmots, mountain goats, big horned sheep, and bald eagles. Have your camera charged and be ready to capture the thrills!
The Train Journey
From Chicago, Amtrak's Empire Builder travels through regions you'd otherwise never see - wild and scenic parts of Minnesota, North Dakota and Idaho. This particular route to Glacier National Park traverses through all kinds of landscapes, including bustling cities, vast plains, and rugged mountain ranges.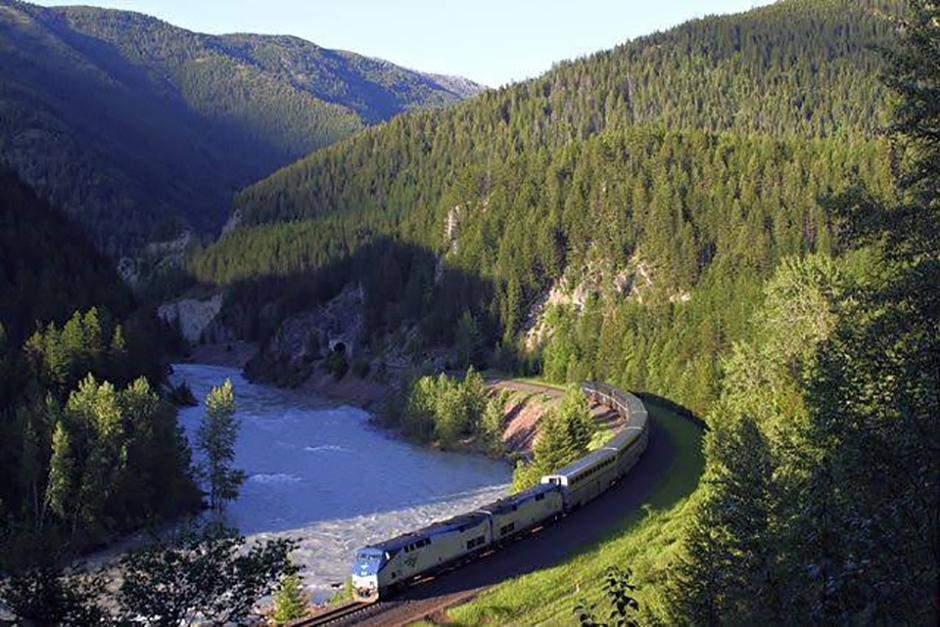 From the Observation Car, take a panoramic window facing seat and watch the incredible scenery go by. When it's time to eat, join your fellow riders for a meal in the Dining Car. Upgrade to a Bedroom or Roomette accommodation and experience a whole new level of comfort onboard. Let the rhythm of the train lull you into a restful sleep. As you get closer to the park, learn more about the areas you pass from National Park Service volunteers who come onboard as part of the Trails & Rails Program. Enjoy as they share stories of the history and folklore of this historic area.
"Taking the train to the park was an adventure in itself, and a relaxing way to see the stunning terrain of Rocky Mountains and golden prairies."     - Kaitlyn A., Amtrak rider
Once the train arrives at the East Glacier, Montana station, it's just a short distance (less than a mile) from the historic Glacier Park Lodge. The impressive lodge is actually modeled after a Swiss chalet and features western charm, a heated outdoor swimming pool, and a nine-hole golf course, and of course, spectacular views of the surrounding scenery. All of the park's lodges were originally developed as major stops along the Great Northern Railroad. Even if you don't stay in one of them, it's still a fun experience to check out their lobbies, porches, and gift shops.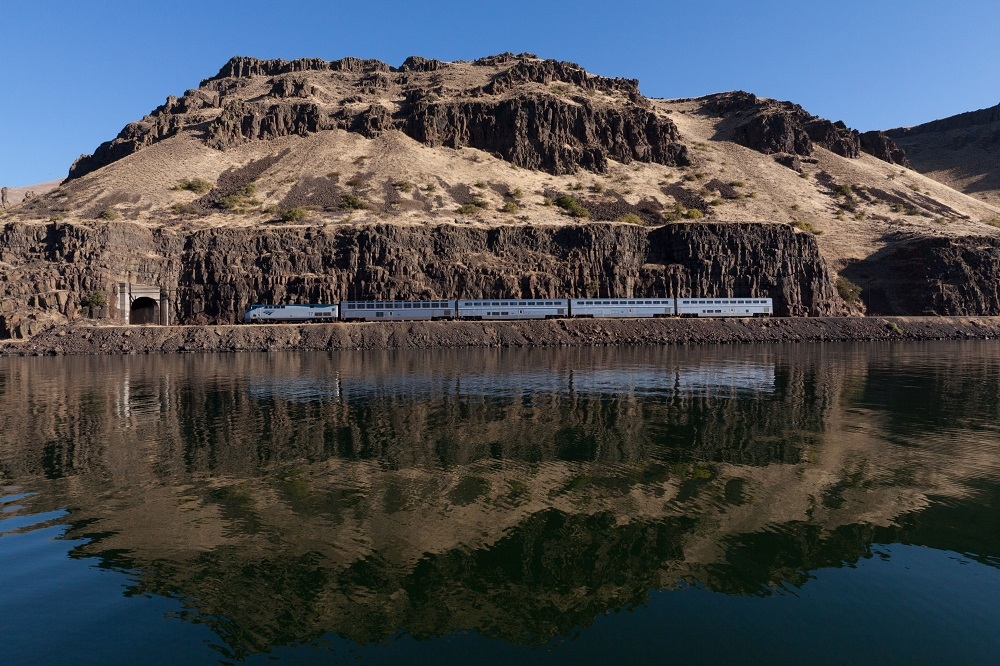 Learn more about top train holiday picks to Glacier National Park from our Rail Holiday Specialists:
Grand National Parks with Grand Canyon, Yosemite, and Glacier National Park
Glacier National Park and the Canadian Rockies by Rail